Skip to Main Content
City Electric Corp Corp: Chadds Ford's Premier Electricians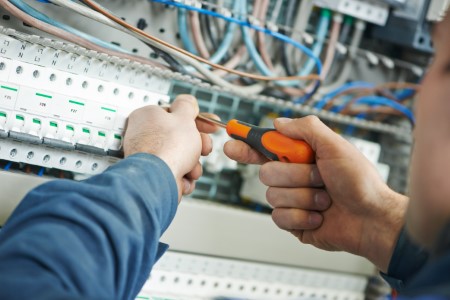 If you're in the market for an electrician that you can trust in the Chadds Ford area, you need to look to the pros at City Electric Corp With 30 years of experience in the business, we have the know-how and the expertise to provide quality results for all of your residential and commercial electrical needs. Call our expert electricians today to enjoy any of the great services we offer:
Electrical safety inspections
Lighting installation
Electrical troubleshooting
And more!
Call Us When Your Chadds Ford Home Needs Any Lighting Work Handled
Quality lighting can make for an enjoyable home life. Conversely, poor lighting can render you unable to fully enjoy the time you'll spend at home. The bad news is that your lighting is bound to suffer over time as it endures daily use-not to mention the kind of unavoidable wear that time will bring. In time, you may find yourself saddled with less-than-acceptable lighting.
The good news: You don't have to live with poor lighting in your home! Instead, you can call our Chadds Ford team for our lighting services. We offer new lighting installation work as well as specialty services such as landscape and pool lighting. No matter what your lighting needs may be, you can depend on us to brighten up your home with our top-rated services!
Commercial Electrical Services for Your Chadds Ford Business
A dependable electrical setup is necessary for running an efficient and safe business. So, you need to keep a dependable electrician in mind for all of your commercial electrical needs. In the Chadds Ford area, choose us to handle all of your business' electrical repair and upgrade needs. We provide quality work to a variety of commercial buildings:
Apartments
Office buildings
Retail businesses
And more!
Enjoy Our Quick, Accurate Electrical Troubleshooting Work
So, you're experiencing an electrical issue. That's no problem: Just call a professional, and things will get resolved just like that . . . Or will they? That answer depends on how clear the issue is and how experienced your professional is. Someone with little to no experience may just waste your time as they peck around guessing at what could be causing your problems.
That's why you need to look to our Chadds Ford team when even the most mysterious electrical issues strike. With our troubleshooting service, we'll quickly and accurately diagnose the cause of your problems, and in no time at all, we'll get things fixed up and working like new once more!
There are currently no reviews or testimonials; check back soon!