Skip to Main Content
Electrical Troubleshooting Keeps Your Philadelphia Home's Electrical System Trouble Free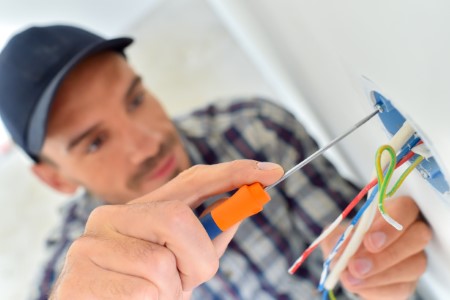 If you find yourself unsure of what's causing your Philadelphia home to experience electrical issues, then you need to call for a professional electrical troubleshooting. A troubleshooting will be your best course of action when you find yourself at a loss as to what's causing your electrical issues. This service will quickly and definitively determine whether you're dealing with . . .
Faulty wiring
Insufficient panel
Faulty switches and outlets
Or anything else
For the quickest and most dependable electrical troubleshooting work, call the experienced pros at City Electric Corp. Our expert electricians have the experience and the know-how to quickly and accurately locate the cause of your electrical woes. Then, thanks to our line of quality electrical repair work to get the issue resolved in no time at all.
Enjoy the Great Benefits of Electrical Troubleshooting
When electrical issues arise, you don't want to jump headlong into things and get the repair that you think might be the one you need to get. Doing so might only prove to be a waste of your time - not to mention your money. So, when electrical issues arise and you find yourself not sure what's causing them, you need to get a troubleshooting. This service will offer a number of great benefits:
Save money
Get the problem fixed ASAP
Enjoy the best peace of mind
To enjoy these benefits to the fullest, you need to get your electrical troubleshooting work handled by the experienced pros at City Electric Corp. We have the resources and the know-how to quickly and accurately determine the cause of your electrical issues. Then, with our unbeatable repair services, we'll get those issues resolved right the first time, guaranteed.
We'll Find the Problem-And Then Fix It!
So, you've called us to troubleshoot your electrical issues, and we've found them. Now what? We'll tell you what, you have us to go a step further and get the problem fixed! We offer a variety of electrical repair services that will have any issues resolved quickly and dependably.
Enjoy Quality Work from Our Philadelphia Electrical Contractors
When you need electrical troubleshooting services, you need to call on our electrical contractors first-and only! After all, we have the experience, the resources, the know-how, and the dedication to absolute customer satisfaction to find the cause of any and all electrical issues you may be dealing with. You can also count on us to provide that same quality of work as we provide the repair work you may need.