Skip to Main Content
Keep Your Philadelphia Swimming Area Safe With Pool Lighting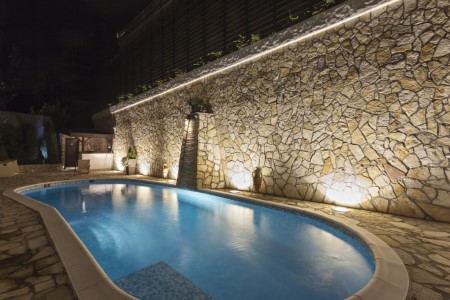 If your Philadelphia home comes with a swimming pool in the backyard, then you need to invest in quality pool lighting fixtures. Pool lighting is essential for ensuring that your loved ones can enjoy your pool in the safest possible manner. Of course, safety isn't all that pool lighting has to offer. After all, it also offers these other great benefits for you to enjoy:
Increased curb appeal
Higher property value
Ability to swim after dark
To enjoy these benefits to the fullest, you need to get your pool lighting installed by the pros at City Electric Corp. Our dependable electricians have the experience and know-how to provide top-quality pool lighting installation work that will help you enjoy all that this fixture can bring to your home. Call us today to schedule a time with our unbeatable team.
Call Us to Keep Your Pool Lighting in Tip-Top Condition
You'll enjoy the above-mentioned qualities only if your pool lighting looks and functions its very best. Unfortunately, like all installations, it's bound to wear away over time. When this wear sets in, you may not be able to enjoy those qualities very much-or even at all. Fortunately, though, you can get those qualities back by calling us for all our pool lighting services:
Repairs
Replacements
Routine maintenance
Don't let time and wear take away from the many great benefits that pool lighting can bring to your home. Instead, look to us when issues begin to creep in. By staying on top of your pool lighting needs, you can ensure that you'll reap these benefits to the fullest while extending the service life of your fixtures. Give us a call if you're in need of any of the work we offer.
Pair Your Pool Lighting with Stunning Landscape Lighting
Pool lighting is more than a utility: It is also something of a decoration that can fully bring out your yard's beauty. If you want to bring that beauty out to the fullest, you need to consider pairing your pool lighting with landscape lighting. These installations will work together to brighten up your yard, making it look great and allowing you to enjoy spending time in it well after sundown.
Call Our Philadelphia Team for Unbeatable Pool Lighting Work
When you find yourself in need of any pool lighting work - installations, repairs, replacements-you need to look to our electrical contractors first and only. We make it our mission to exceed our customers' expectations for all the work we do, so you can depend on us to provide unbeatable lighting services. Call us today if you're in need of pool lighting work or any other electrical services.