Skip to Main Content
Commercial Fire Alarm Systems In Philadelphia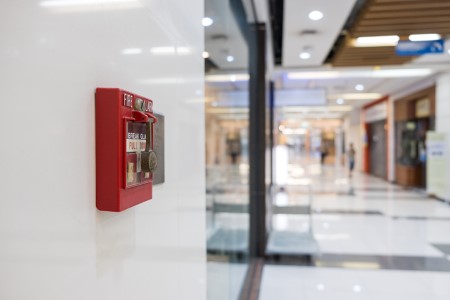 Your commercial property in Philadelphia should be as safe as can be for all who come to it, and to ensure your property is that safe, you need to invest in a commercial fire alarm system. Fires are one of the most destructive things that can break out, after all. Worse still, they're one of the most common issues that could affect your property, as they can be caused by a number of issues:
Wiring issues
Unattended heat sources
Faulty electrical equipment
And much more
While you can't do much to stop those issues from developing, you can take steps to keep yourself and others inside of any affected properties one step ahead of any fires that develop. To do that, call City Electric Corp to outfit your property with a commercial fire alarm system. Our professional electricians have the experience and resources to provide quick and dependable work.
A Fire Alarm System You Can Confidently Depend Upon
When you invest in a fire safety system, you'll want to know you're getting a product you can depend on. You don't want to wait till it's too late to find out the product doesn't work right--not when your safety is on the line. That's why you'll want to leave all of your fire safety system work in our expert hands. We guarantee you'll enjoy the most dependable product that'll be there when you need it.
Supplement Your Fire Alarm with Electrical Services
Though a fire alarm system is a great means of keeping safe in the event of a fire, it should be a last-resort option. The more effective option in this case is to prevent fires from breaking out in the first place. You can't always prevent fires entirely, but you can significantly reduce the likelihood of an electrical fire. To do that, you need to invest in these services:
Wiring repair
Panel upgrades
Safety inspections
General electrical repairs
Whether you're looking to replace some bad wiring, upgrade your electrical panel, or have any other related work handled, you need to look to the pros at City Electric Corp. Your safety is our goal in all the work we do, and you can be sure to remain as safe as can be from electrical fires by calling on us for our unrivaled repair services.
Get Your Fire Alarm System from Our Experienced Team
Safety should be your first and foremost concern when it comes to your commercial properties, and to maintain the best safety possible, you need to invest in a quality fire alarm system. To enjoy the most dependable fire alarm system there is, call the commercial electric contractor s at City Electric Corp. We'll provide quick work and quality results, guaranteed.