Skip to Main Content
Reduce Philadelphia Home Fire Hazards With Outlet Repair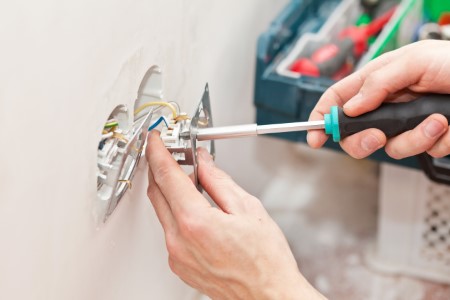 Your Philadelphia home should be as safe as can be for you and your loved ones, and to maintain the best safety in your home, you may need to get professional outlet repairs over time. Your outlets are going to be put to use almost every day, and that daily use can put some serious wear and tear on them. In time, this wear could leave you exposed to a number of issues:
Electrical fires
Shocks
Damage to devices
If you're looking for a professional electrician to handle your outlet repair needs, you need to call City Electric Corp. We have many years of experience in the industry, and that experience combined with our dedication to customer satisfaction ensures that we can give you the results you're looking for. Give us a call today if you're dealing with any potentially dangerous outlets in your home.
Know the Signs of a Faulty Outlet
As we mentioned above, faulty outlets are the cause of a number of some of the most dangerous problems that could occur within your home. So, you need to get a jump on your outlet repairs before those problems can occur. How can you know when it's time to get your outlets repaired? Simple: You can look for a number of common signs of faulty outlets. These signs include the following:
Flipped breakers
Non-working outlets
Buzzing sounds
Lights flickering
If you've detected any of these issues within your home, you need to give us a call at once. We'll get your outlets working like brand new once more in no time with our outlet repair work. You shouldn't leave yourself and your loved ones exposed to the dangers that outlet issues can cause, and by being vigilant about these signs, you can be sure you'll always remain as protected as can be.
Get Quality Work from Our Philadelphia Electricians
Whether you're in the market for an outlet repair or any other electrical repair work, you're going to want to leave that work in the hands of the dependable pros at City Electric Corp. Our experienced electrical contractors have the know-how and the resources to locate and address any and all electrical problems in your Philadelphia home. Call us today to get any such problems resolved ASAP.