Skip to Main Content
Make Sure Your Philadelphia Home Stays Cool and Comfortable With Ceiling Fan Repair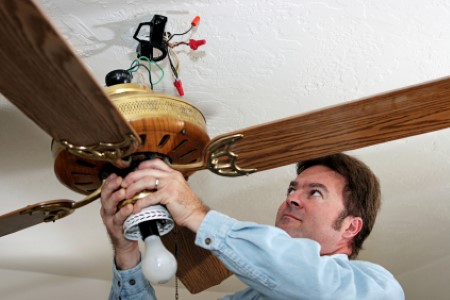 When your ceiling fan fails to work its best-or to work at all-you need to call the Philadelphia area pros at City Electric Corp for a ceiling fan repair at once. Though your ceiling fan goes over your head, you shouldn't let the benefits it offers do the same. After all, a properly working ceiling fan can offer these great advantages for you and your loved ones to enjoy:
Greater home comfort
Reduced energy costs
Cleaner indoor air
So, when ceiling fan issues creep in, you'll need to get them addressed ASAP. For the quickest and most dependable ceiling fan repair work in the Philadelphia area, you need to call on our reliable electricians. We'll provide quick and dependable work to get your fan working like new once more, no matter what condition it might be in.
Quality Repair Work When You Need It
Since a problematic ceiling fan can lead to such a variety of issues in your home, you'll want to have its repairs handled quickly and dependably. That's why you need to look to our Philadelphia team when ceiling fan issues develop. With our experience and our dedication to excellence in all the work we do, you can count on us to provide nothing short of dependable ceiling fan repair work.
Ceiling Fan Installation
At City Electric Corp, we do more than just repair your old ceiling fans. We also install new units when you need new ones put in. You can also count on us to install a ceiling fan where one hadn't been installed yet. If you're thinking about getting any new ceiling fans installed in your home, you need to think of our Philadelphia team first.
Ceiling Fan Replacement
Maybe your old fan is well beyond the point that repairs will do anything. Perhaps you simply want to get a new fan to give your home a new look. Whatever the reason may be, if you're looking to get your old fans replaced, you need to look to our experienced team for quick, quality work. We'll outfit your home with a beautiful and dependable new unit in no time at all.
Call Our Philadelphia Team for All of Your Ceiling Fan Needs
Are you dealing with ceiling fan issues? Well, don't let those issues take away from the great benefits that a fan has to offer. Instead, call our electrical contractors today to enjoy a quality ceiling fan repair. Be sure to keep us in mind for all of your other electrical needs: repairs, replacements, troubleshooting, etc. We do it all to keep your Philadelphia home running its best!